Michael Svec, Furman University
Is attending an American scientific meeting analogous to driving through Iowa, an endless sea of white male monoculture stretching as far as the eye can see?
Current statistics from the National Science Foundation on women and minorities in science and engineering suggest that the demographic composition of scientists and engineers does not reflect the large diversity of the American population. Over 70% of scientists and engineers in the United States are white, 12% Asian, 6% Hispanic, and only 5% black.
I have been involved in science education for over 20 years, primarily as a teacher educator. In that role, I have observed first hand efforts for improving diversity of both teachers and scientists.
Educators face many challenges in advancing the learning of science in classrooms. I have seen the continuing challenges of minority students in both the university science departments and the public schools. From the trenches of public K-12 education we often see societal changes and demographic shifts before many others.
Percentage of white kids in classrooms on decline
By 2023, only 45% of the US school population will be white. Demographically, the population in the US has been predominantly white. Currently, 62.2% residents in the US, between the age 18 to 64, are white, 16.4% Hispanic, and 12.6% black.
But the population is increasingly becoming more diverse according to the National Center for Education Statistic. The percentage of white children in classrooms is on decline. In 2011, PK-12 students were 52% white, 24% Hispanic and 16% black.
The creation of the next generation of scientists from the diverse American population, is a long process that needs to begin now. A diverse science community is important for many reasons beyond meeting the needs of global economic competitiveness. Diverse perspectives deepen learning, social engagement, and thinking.
Testing pressures have driven out curiosity
At the National Research Council Chemical Science Roundtable in 2003 focusing on minorities in chemistry, Dr. Sylvia Hurtado, director of UCLA's Higher Education Research Institute, noted the key role workplace diversity plays in fostering creativity.
However, educators face many challenges. For instance, in the K-12 public classroom, the pressure on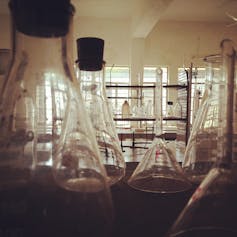 teachers to build math and literacy skills, leaves no room for science in the school day.
In addition, the pressures on a school to perform well on the test have driven inquiry and curiosity out of the science classroom. The very attitudes and dispositions that draw many to a science or engineering career are not easily measured and therefore are not part of the school curriculum.
The politicizing of the science curriculum damages the efforts to excite the next generation of scientists. Many states are fighting over the science curriculum.
Although scientific knowledge is beyond boundaries of state or nation, many states are rejecting the Next Generation Science Standards because, in the realm of conservative political ideologies, they represent a federal mandate.
Challenging the focus on test scores
At universities, there are calls for changing the culture of science education from within, with more attention being given to supporting outstanding science teachers at research universities.
There are examples and models of success supporting the call for change. For instance, Louisiana State University's hierarchical mentoring program has a proven track record of producing African American PhD chemists.
The program founded by Dr. Isiah Warner and supported with a Howard Hughes Medical Institute award, challenges the dominant focus on achievement test scores and competition.
Instead of dismissing the underachievers, the program provides a supporting atmosphere so students do not stay away from challenging courses. And it provides mentoring to help build success. The LSU program recruits freshmen and sophomores with a GPA between 2.5 and 3.25.
Involving the community for mentoring
A diverse scientific community is an achievable goal but it must engage all the stakeholders. Parents, teachers, peers, university professors, and others, who play a part in encouraging, nurturing, and mentoring the successful scientist or engineer, need to be engaged.
Role models such as the American astrophysicist, cosmologist, author, and science communicator, Neil deGrasse Tyson are necessary and important but not sufficient to change the status quo. Home, K-12 schools, universities, and the work place all contribute to the nurturing and mentoring of students of science.
Workplace needs to support diversity
The work place must also embrace diversity. Unfortunately a hostile work environment can undermine the successes of the schools and universities. A Harvard study found that as many as 50% of women leave STEM by mid-career because of hostile work environments. Forty-four percent of the American women believe that they have to behave like a man to find success.
Therein lies the dilemma and challenge. How do cultures and institutions change behaviors that define success based upon narrow and ethnic/gender based criteria?
The answers will require a long term, broad commitment across the entire culture. Parents, teachers, politicians, and scientists must interact and work with each other as well as among their peers. A more deliberate and morally grounded effort can go a long way in creating a robust, rigorous, creative, and diverse STEM community that benefits our society.

Michael Svec, Associate Professor of Education, Furman University
This article is republished from The Conversation under a Creative Commons license. Read the original article.